Treat yourself.
Fun stuff!
'Out Of The Dust'
A NEW Sci-Fi Adventure Novella by Warren Douglas
Take a reclusive genius, add a runaway Govt. agency, some space aliens raised in California, throw in the Amazon and a deadly Ancient Flying Saucer that threatens the earth with a 500 pound Canary and you have a Wild Fast Paced ADVENTURE you won't put down!
For WORKING and PROFESSIONAL Mystery Performers ONLY!
This is an Entertainment ACT as well as a terrific Sci-Fi Book. ( Book IS available without Performance Elements as well
for a FUN Sci-Fi Adventure read. )
Higley's Top Secret…The Performance:
"You see, this guy Warren Douglas wrote a terrific Sci-Fi Adventure book. BUT, being a former NSA Operative he decided to hide some Top Secret information within the story. The NSA Black Ops Division has been back engineering Alien Weapons systems. Space Aliens, not people from Tijuana. The book is filled with 6 sequence numbers which we think are Parts Numbers. What these Parts Numbers designate and where the system or item is hidden will be our job. Now there are two ways you can help me…both are certified National Security Agency methods for obtaining Secret information. ONE is Advanced Body language and Mental Positioning…you will take the book and I will attempt to read your reactions and your focused thoughts. The other method is Waterboarding. Do you have a preference?"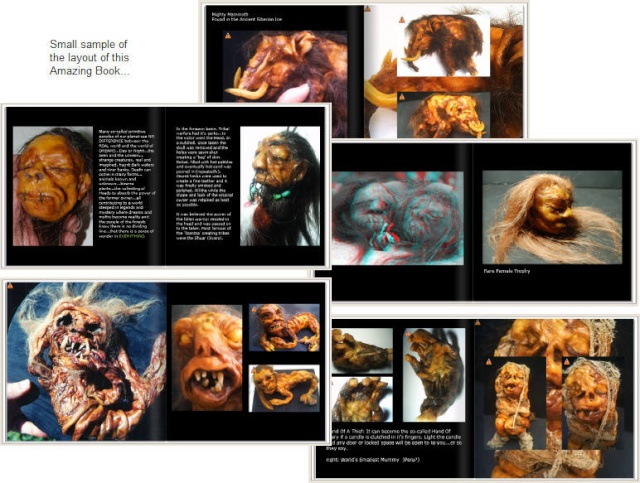 'Outrageous! Spectacular! Disturbing! Bizarre! Amazing!'
'Fantastic!' George Noory, host of Coast to Coast A.M.
UNKOWN MONSTERS!
NEW for 2010! The PHOTOGRAPHIC ODD Museum Book!
Some Photos in 3 - D !
The STRANGEST Book You Will Ever Own!
Bizarre Mystery Creatures CLOSE-UP!
These are not the murky photos your used to seeing in the media!
www.spookybook.com